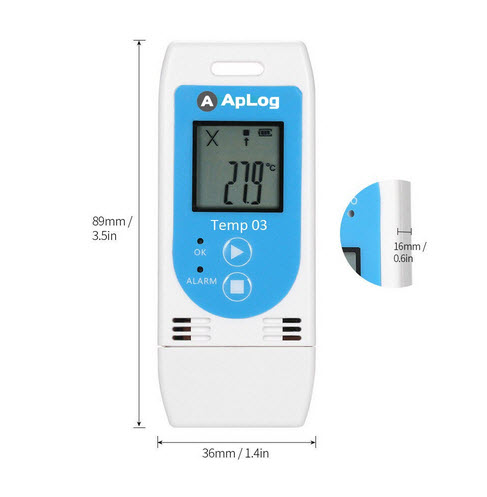 Applications

-The device is mainly used to monitor the temperature and humidity data of food, me-dicine,chemical products and other products during storage and transportation.

-It is widely used in all links of warehousing and logistics cold-chain, such as reefer containers, refrigerated trucks, refrigerated distribution boxes, cold storage lab, etc.

-After the recording completed, it is inserted into the computer without any driver and automatically generates reports.
Product Features
Designed to be Multi-use

Temperature & Humidity measurement and recording

Wide measuring range, high accuracy and large data memory

Statistics avaliable on LCD display

No software needed to retrieve data

Automatically generates PDF report and CSV file

Programmable for logging parameters, alarms and start delay.

Specification
Dimensions

89mm*36mm*16mm

Weight

25g

Time Zone

UTC +0:00 (Default)

Use Type

Multi-use

Accuracy

±3%RH; ±0.5℃(-20℃~+40℃),±1.0℃(other)

Measuring Range

Humidity 0%~100%RH, Temp -30℃~60℃

Resolution

0.1%RH typically, 0.1℃

Memory Capacity

32000

Recording Options

Delayed or Push-To-Start Logging

Record Interval

10 seconds to 18 hours adjustable [Default:10 mins]

Start Delay

Programmable (0~254 mins) [Default:30 mins]

Alarm Delay

Programmable (0~960 mins) [Default:10 mins]

Alarm Range

Programmable high or low alarm

[Default:<2℃ or >8℃, <40%RH or >80%RH]

Shelf Life / Battery

Typically 1 Year ;CR2032 3.0V Lithium Battery

(Depending on Sampling Rate and Environment)

Report Generation

Simultaneously generate PDF and CSV files

Communication Interface

USB2.0