UTRED30-16 – 30 DAY LOGGER WITH DISPLAY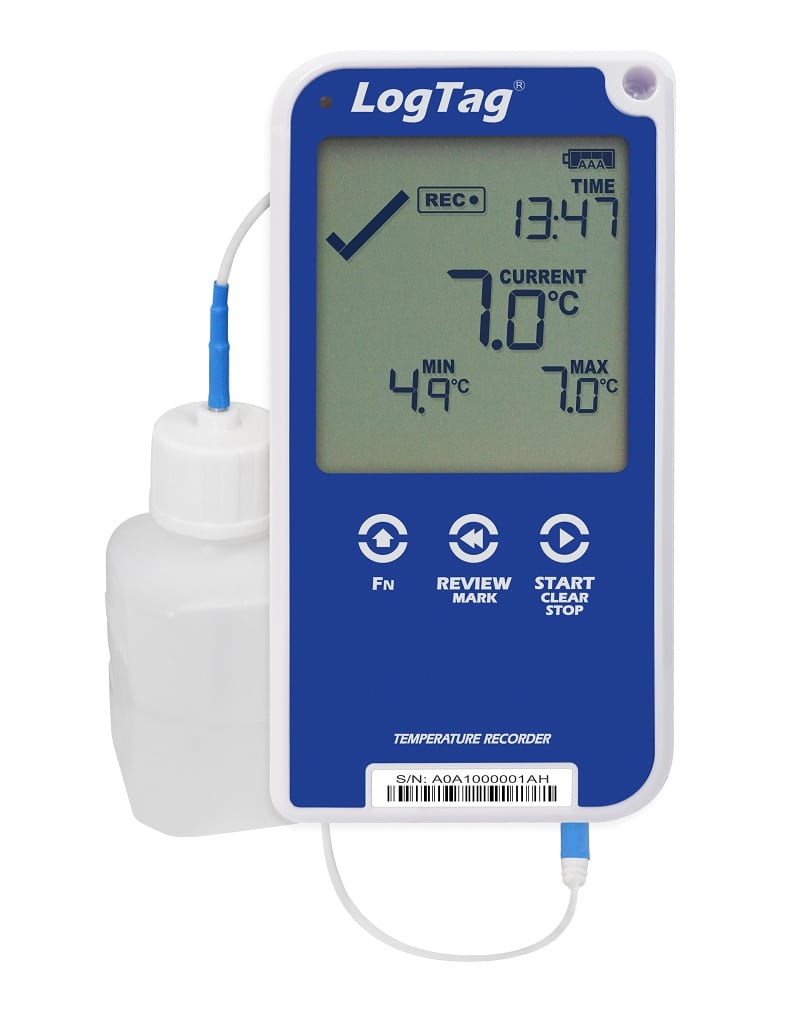 •Read current temperature and latest Min-Max temperature at a glance.
• Check and reset Min-Max temperature reading at any time.
• Audible alarm and flashing red LED signals a temperature alarm.
• View alarm status for up to 30 days at a glance.
• External sensor and glycol buffer are supplied separately (depending on your application requirement).
• Powered by 2x AAA batteries (user replaceable) if not external powered.
• Can be powered via a standard plug-in power adaptor and a USB cable.
• Download data via LogTag Analyzer or as a PDF (no software required)
• Measure and store up to 16,000 time/temperature readings – enough for 67 days at 6 minute logging.
• Interchangeable external probe with high quality gold-plated connector.
• Record inspections at the push of a button.
• Auto-pause function suspends alarm and statistic processing when the external sensor is unplugged.
• Second battery backup via a coin cell to ensure no data is lost even if the power source and AAA batteries fail.
• Comprehensive customization options including sampling interval and alarm settings.
• Accessories include a range of external sensor options, wall mount bracket and glycol buffer.
Automatic PDF Report
The UTRED30-16 connects to a computer USB port for easy configuration by the user for a wide range of recording and alert conditions. Upon download, it automatically generates a fully detailed PDF report with the option to download the data using the freely available LogTag®Analyzer software for a more detailed analysis. A red alarm indicator together with X shown on display provides an immediate indication - without access to a PC - if any readings are outside the limits specified at the time the unit was configured.Automatically generates an encrypted LogTag data file - for a more detailed analysis and to comply with FDA CFR21 Part 11.
SPECIFICATIONS
Product Model
UTRED30-16.
External Sensor Measurement Range
-40°C to +99°C (-40°F to +210°F).
Operating Temperature Range
-30°C to +60°C (-22°F to +140°F).
Rated Temperature Resolution
0.1°C or 0.1°F.
Rated Temperature Reading Accuracy
Better than ±0.5°C (±0.9°F) for -20°C to +40°C (-4°F to +104°F), typically ±0.3°C (0.6°F).
Better than ±0.8°C (±1.4°F) for -40°C to -20°C (-40°F to -4°F), typically ±0.5°C (0.9°F).
Better than ±0.8°C (±1.4°F) for +40°C to +70°C (+104°F to +158°F), typically ±0.7°C (1.3°F).
Better than ±1.2°C (±2.2°F) for +70°C to +99°C (+158°F to +210°F), typically ±1°C (1.8°F).
Recording Capacity
16,129 temperature readings. 67 days at 6 minute logging.
Day summary statistics memory (for display on LCD): up for 30 days of Max/Min/duration and alarm trigger statistics.
Sampling Interval
Configurable from 30 seconds to 18 hours.
Logging Start Options
Push button start (with configurable start delay from 1 minute to 72 hours) or specific date & time.
Download Time
Typically with full memory (16,129 readings) in less than 10 seconds.
Environmental
IP51 (when vertically mounted or hung).
Power Source
5V via micro USB socket or 2 X 1.5V AAA alkaline batteries. CR2032 (LiMg) coin cell (backup logging function only).
Battery Life
AAA battery up to 12 months – if unit is operated without power supply.
Connection Interface
USB 2.0 / Micro USB plug.
Size
123mm(H) x 63mm(W) x 12.5mm(T).
Weight
80g (excluding probe and AAA batteries).
Case Material
Polycarbonate.

Compliance and Certifications
UTRED30 Wallmount Bracket