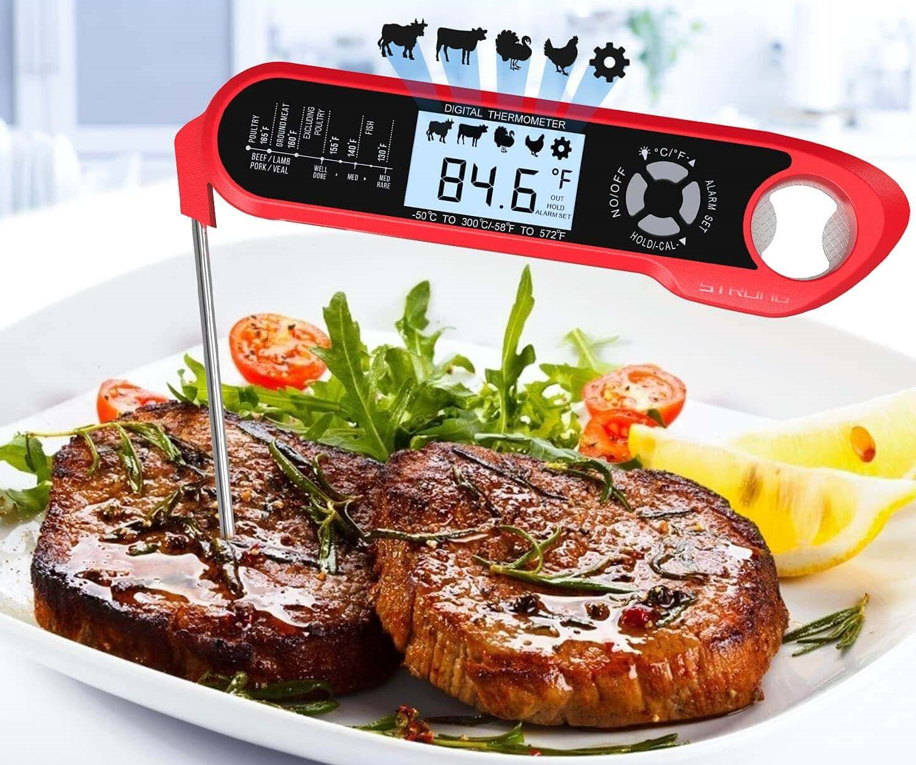 TZ-FMT04 dual probe foldable digital food thermometer is an effective solution to achieve the most accurate temperature in a matter of seconds.
It's with backlight LCD display, reading temperatures in your preferred unit of measurement between Celsius or Fahrenheit.
Its one more external extension probe allows the oven door to be closed the whole time, help you cook the most delicious grilled meat.
It's widely used when cooking meat, poultry, egg dishes or grilling, BBQ and so on.
Specification
Temperature Measurement -50°C to 300°C (-58'F to 572°F)
Dimension 165mm*42mm*18mm
Weight 83g
Temperature Resolution 0.1°c
Range Accuracy ±1°C (-2'F) -20°C to 200°C (-4'F to 392'F)
Probe Needle Material Food-grade safety 304 stainless steel probe
Canning Material Flame retardant, high temperature resistant, anti fall, environmental protection ABS material
Probe Specification 130*3.5*1.68mm
Specification Of Long Wire Probe Probe length 163mm; Probe wire length 1155mm
Temperature Measuring Speed Measure boiling water at 100°C for 2-3s
Battery CR2032, boot up to 500H,3V button battery
FEATURE
• Can be re-calibrated in 0°C or 32°F
• Display resolution 0.1 °C
• Units: C/° F switchable
• Measuring range -50°C-300°C( -58°F -572° F)
• Measuring accuracy ±1 °C(+2° F)at-20°C -150°C(-4° F-302°F)
• Large Bright Backlight
• Two strong internal magnets that can be attached to fridge or steel surface
• Temperature holding function can stop the display from changing the readout
• The device will automatically turn off after 10 minutes if no operation
• Food Grade Dual Probe The external probe can be used for oven/grill/smoker to obtain the real-time temp of meat/bread