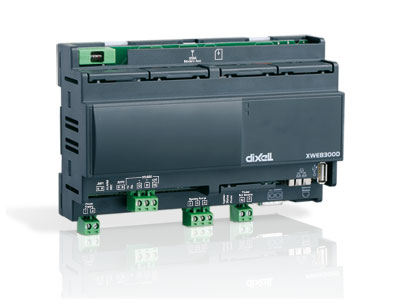 The ability to manage from 6 to 18 devices, suitable for monitoring gas stations, small supermarkets, small cold storage systems. The simple DIN Rail (4 DIN) casing, no display, this simple design makes the XWEB300D an effective solution for remote connections. Internal connection to a computer or remote connection without any special software, just standard browsers (Microsoft Internet Explorer® or Firefox®); Information is displayed in the form of web pages.

The Web server monitors the entire system and in the event of a warning, the Web server notifies the service center via FAX, SMS or e-mail.
Through the LAN port, connecting to the XWEB300D is easy and secure, without the need for any special software.
XWEB300D can manage all controller information, and manage all parameters and alerts.
Java Applet software will support graphical display.